Hellenic Seaplanes approaches the Greek market with high quality products and services, motivated to offer its passengers comfortable, easy and safe flights. The flights with our company's seaplanes as well as the professionalism of our staff ensure the maximum quality of its experience customer.
''Hellenic Seaplanes S.A.'' plans to operate scheduled flights from Metropolitan Water Aerodromes to all Greek islands, coastal ports and lakes where the current transportation system is deficient. Routes and scheduled flights will be established based on the corporate strategic planning as well as, the demand generated from the local communities and our partners.
''Hellenic Seaplanes S.A.'' offers quality charter and hire flights at the most competitive prices (capacity 9-12-19 passengers) depending on the type of seaplane, route and travel period. Group charter opportunities are numerous and include personal groups, government, corporate, institutional, scientific, medivac, search and rescue, sports teams, advertising and promotional, among others.
''Hellenic Seaplanes S.A.'' provides transport from our designated water aerodromes to specific resort destinations, given the fact that the resorts have the proper infrastructure to accommodate the sea planes.
''Hellenic Seaplanes S.A.'' will provide freight and cargo services on a scheduled route or for hire basis. Pricing is dependent on the route selection, weight, dimensions and content of goods being transported.
''Hellenic Seaplanes S.A.'' has planned special flightseeing tours, to cater the cruise passengers that visit Greece in the summer months. These include but not limited to, a flightseeing tour over the island of Mykonos and to the sacred island of Delos, a flightseeing tour over the island of Santorini and from Katakolo two flightseeing tours over the Ancient Olympia and another over the shipwreck at the island of Zakynthos. Appropriate audio-visual equipment will be available so as to maximize the travel experience and enjoyment.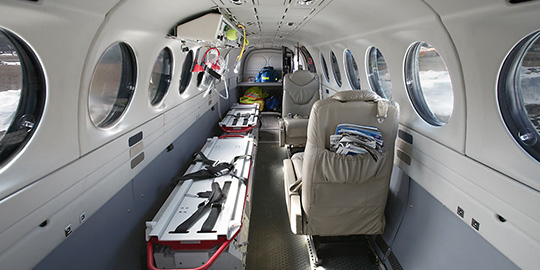 Patient Air Transportation Services
The aircraft of Hellenic Seaplanes can be easily converted to ambulance carriers and carry up to four (4) patients (stretchers) at a time. In order to cover this very important aspect of social need, Hellenic Seaplanes S.A. has signed agreements with national insurance companies, health centres and ambulance services in order to assist the transportation of patients from all the hard to reach areas of the country.